Why Was IDELA Developed As a New ECD Measure?
The first years of life are critical in shaping children's cognitive, social and language skills, as well as their lifelong capacity for learning. Early development and learning experiences determine future success in school and in life. But which programs and practices work best? Early childhood development measurement is crucial to determine if curricula, teaching practices, programs and policies are effective for young children.
In 2011, based on lessons learned from years of early childhood programming and a comprehensive review of existing child development assessment tools, Save the Children began the process of creating a new evaluation tool, IDELA. 
IDELA is 
A direct child assessment 

 

O

pen access

 and low cost to administer

 

Adaptable to a variety of income, development and cultural contexts

 
The International Development and Early Learning Assessment (IDELA) is an easy-to-use, rigorous global tool that measures children's early learning and development. IDELA provides ECCD programs, donors, and government partners with evidence on the status of children aged 3.5 to 6 years. 
What Does IDELA Measure?
IDELA provides a holistic picture of children's development and learning covering four core developmental domains: 
motor development

 

emergent literacy

 

emergent numeracy

 

social-emotional 

development

 
Tasks are play-based and rely on locally sourced materials.  
Add-on items to the core IDELA assessment measure inhibitory control, memory, and children's learning approaches. To provide a more in-depth picture of children's learning environments IDELA can be combined with caregiver and classroom measurement tools.  
The Data Explorer provides dozens of interactive IDELA data visualizations, so you can see the information captured by the assessment.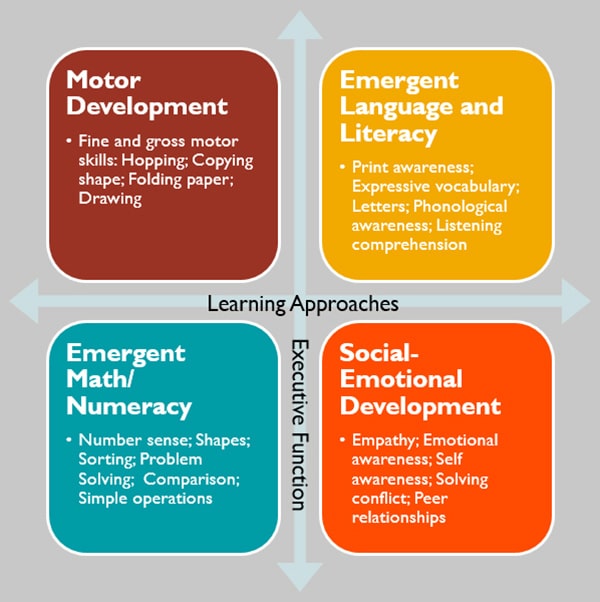 How Can IDELA be Used to Measure Early Childhood Development?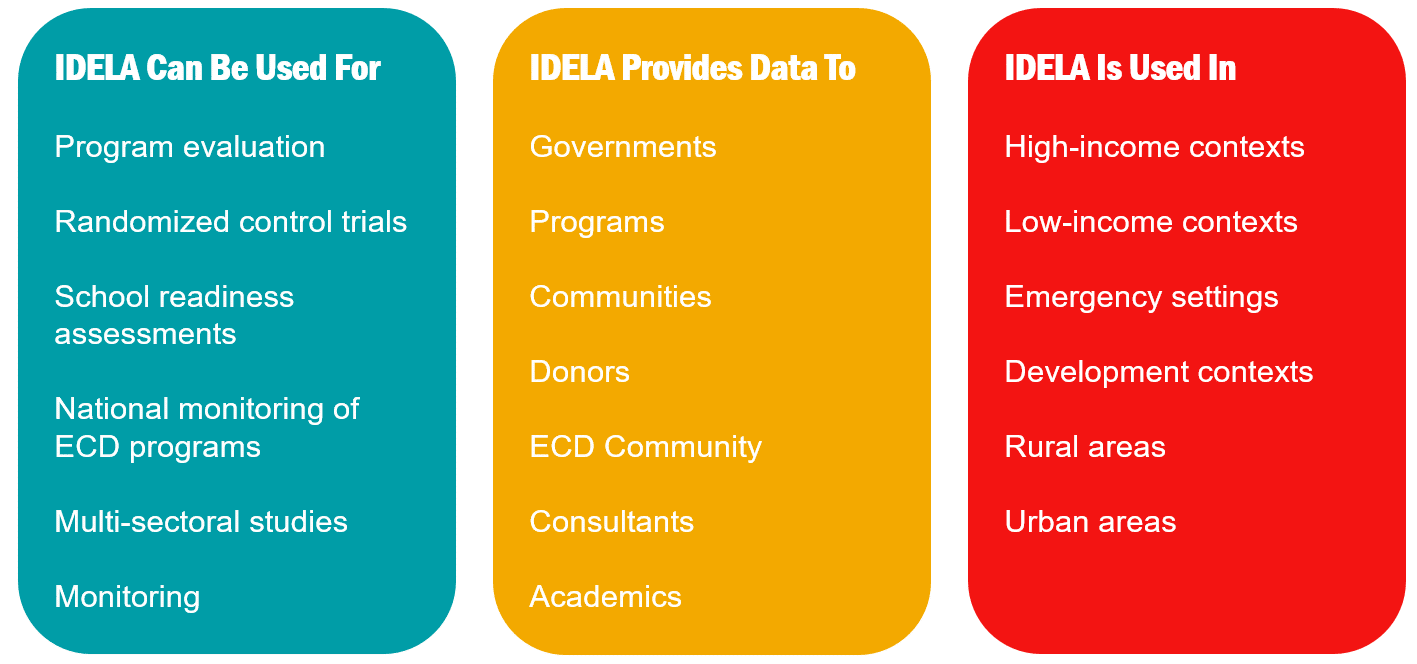 Development and Validation of IDELA
Save the Children is committed to implementing effective programs grounded in strong evidence. Few international tools can measure the impact of ECCD interventions across various settings, but IDELA can. 
The initial IDELA testing phase reviewed over 60 items across five developmental domains. The goal was to narrow down the instrument to the most reliable and feasible items to be used across countries and contexts with 3-6 year old children. Testing and modifying over three years in multiple sites, across 12 different countries, resulted in a 24-item assessment that balances three key dimensions: 
psychometric rigor

 

accessibility and feasibility

 

international applicability

 
A series of analyses were conducted using data from 11 countries and 5,300 children to test item integrity and the strength of domain-specific subscales within the assessment. The full assessment and all subscales demonstrated strong internal consistency. 
Further exploratory and confirmatory factor analysis conducted by researchers at the Transforming Interventions Effectiveness and Scale (TIES) Center at New York University  confirmed the presence of an overall factor and four strong sub-factors 
The result is a tool that is easily translated and administered in low-resource settings and has strong reliability and validity.